Yes, I have been shopping for a few new products on and off post. Some items I needed and some I just wanted to try out. Here are some of the products I bought -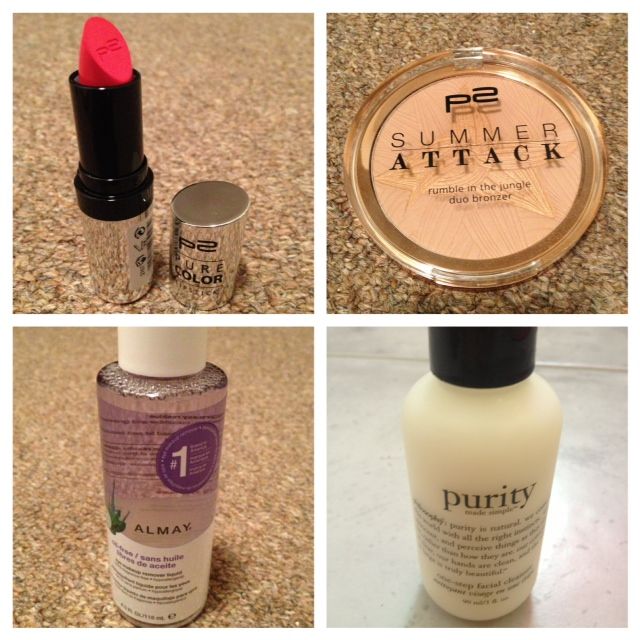 So the brand P2 came out with a few new lip colors. This is one of them and I am just loving bright colors this season. The color is called "Vegas Strip." It is really pigmented and just soft on the lips. Another P2 product I bought is this duo bronzer. It has some gold shimmer in the middle. Really great for summer! I needed a good eye make up remover so I bought this Almay make up remover. It's oil free which is a plus for me because I do have oily/combination skin. I also watched a tutorial for cleaning your false lashes using this make up remover and it works great! If you want to watch the tutorial I am talking about, click here. The last thing from this picture is the Purity face wash. I seen a lot of beauty gurus on youtube talk about this product. It's supposed to be a good face wash and it really cleans your face and takes off make up. I thought I should try it since I do wear make up every time I leave the house. It's quite pricey so I bought the little bottle just to try it out for now.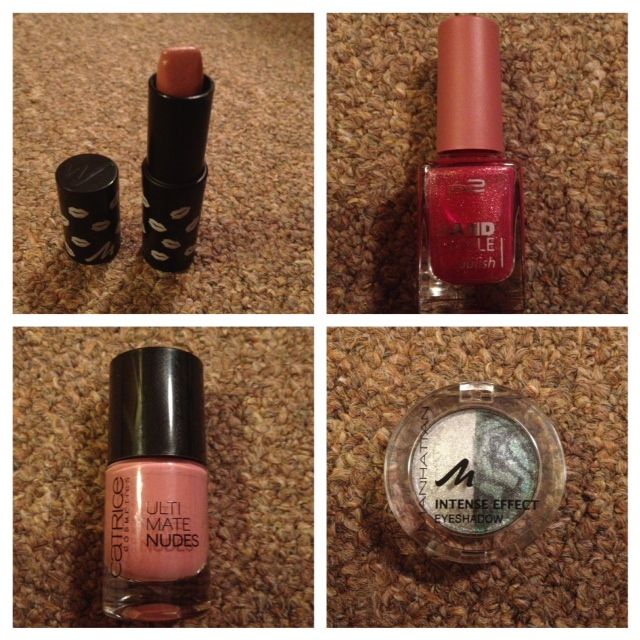 A lipstick from the brand Manhattan. They had 4 new colors for this season and I thought I would give this nude color a try. It's more of a pinky nude and I love it specially when paired up with a gloss. It has a nice finish to it. Next is a P2 nail polish. They have a new line called Sandy nail polish. It does have a sandy texture and I love it! I have been wanting something like this for a long time because they had this in Japan awhile ago but it wasn't a nail polish. It was more of a sandy powder you can put on top of your nail polish. So I'm glad this brand came out with this line. I can't wait to try the other colors! Another nail polish I got was this Catrice from the Nudes line. It's a pink nude color and I love it. Last is this duo eyeshadow from Manhattan. I wasn't going to buy this, but what sold it to me was the picture of their model with the product on. I'm not really great on putting on shadows.. let's say I am still learning and I need to learn how they used this product on the model because it looked great!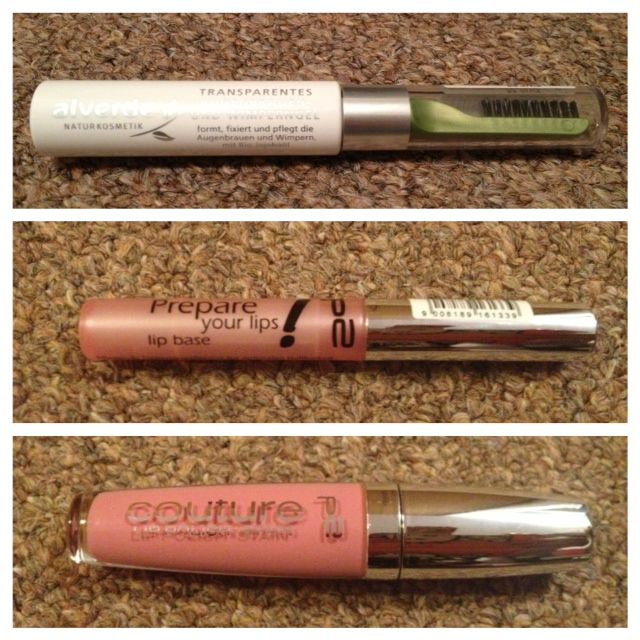 On my last set of products, the first one is just a clear mascara from the brand Alverde. I never bought anything from this line, but they were the only line that carried a clear mascara at that time. I bought it just to tame my eyebrows. It does it's job :) Next is P2's Prepare your lips lip base. My lips are usually dry and full of lines so I figured using a lip base might help me with my problem and also give my lipstick a boost once I apply it. Tried it a few times and it does help set the lipstick pretty well. Last item from this haul is from P2 - Couture Lip Polish Stain. Wanted to try a nude pink. Yes, me and pinks! Love it :) It's not very shiny.. more of a creamy texture, but I love the color!