So hubby finally got back today from the States and he got me some goodies! So excited! Of course, they don't sell any of these stuff here so I'm happy that I can get my hands on some of them. Thank you hubby! :)
First on my list is the Pantene Expert AgeDefy Advanced Thickening Treatment. Long name huh? Lol :) Seen this product on Allure.com. It must be a good product then right? :) We will see once I try it out. My hair is just thin and I feel like I will be balding early at age because I have been doing too much to my hair! So I hope this helps.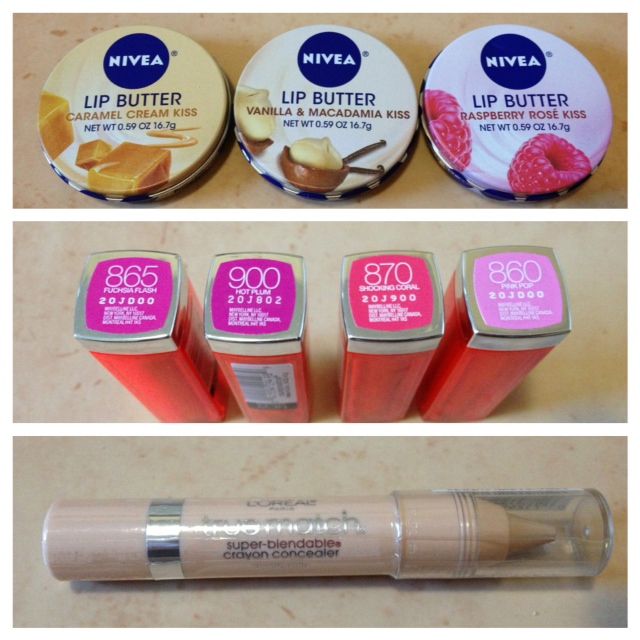 I had to get some Nivea lip butters! All I hear are good things about it so I wanted to try it. And I am always in need of a good chapstick! My lips are just always dry. I have tried one and they feel super soft on the lips. Let's hope they keep my lips moisturized at all times! Second are some colors from the Maybelline Vivids collection. Haven't tried any of them, but I am loving the colors on the tube. Will update you all on how they look in the future. Third, is the Loreal True Match super-blendable crayon concealer. Have not tried this one yet either, but I am excited to try it.

Last set are some more lip stuff! Can you tell that I'm addicted to lip stuff! Lol :) So everyone has been rambling about the EOS lip balms. They are cute and smell good too. I got too excited that I opened them right away :) Last thing are the Maybelline Whispers. Tried one color and it's a pretty good lipstick for everyday wear. Can't wait to try all of them!